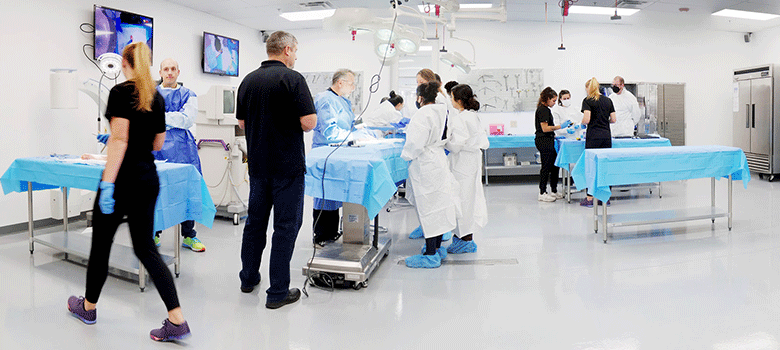 UTSA students test self-made biomedical devices in cadaver lab | UTSA today | UTSA
"We were very satisfied with the result of the lab," said Brian kieser, CEO of Nvision Biomedical. "The students were fully engaged with their consultant surgeons, our engineers and with each other. The surgeons were impressed with the concepts and felt that the students had a solid understanding of the design requirements necessary to diagnose the patient being treated.
This is the second time that UTSA's College of Engineering and Integrated Design (CEID) has partnered with Nvision to offer the course. The previous course, held in 2019, also saw students develop implantation devices, but this is the first time that the course has included a cadaver lab in which to implant and test the viability of the devices.
"When hiring new engineers, we find the most difficult aspects to understand are the interactions with the surgeons in the design process, the design in a true 3D space as we like to say, and the sheer volume of documentation. required to comply with FDA regulations, "Kieser said. "The course aims to shorten the learning curve so that we can fully involve them in the design and development work earlier, thus making us more efficient. We encourage students to bring their completed Design History File (DHF) to interviews in order to differentiate themselves from their peers. Several alumni have told us that taking the course and the DHF has made a difference in receiving industry job offers.
"It is of great benefit to them that students understand the medical device launch process, FDA pre-market notification activities, and design review procedures as they will be better prepared. than any other graduate who has not been exposed to this. process before, "added the course instructor and engineer Nvision Analaura Villareal Berain, who obtained a Master of Science in Biomedical Engineering in 2017.
Practical application, such as that offered in the classroom with Nvision, is the cornerstone of CEID's programs and exemplifies the dedication to producing career-ready graduates. In the previous iteration of this course, a UTSA student Erin England, who obtained a Bachelor of Science in Biomedical Engineering in 2020, was offered a full-time position by Nvision. She is currently working at the firm.
"CEID is delighted to collaborate with Nvision to provide our students with unparalleled opportunities to hone their skills and come out of their program ready to make their mark in the professional world," said JoAnn Browning, Dean of CEID. "When theory is a fundamental part of our programs, hands-on experiences such as the ability to design, manufacture, implement and test these devices are an invaluable educational opportunity for our students to learn more about their target industry. . I am grateful to Nvision for providing this opportunity to our students.
Students in the class will now take their notes and learnings from the cadaver lab and begin the process of refining their implant devices. For their final exam, groups of students will be required to present their devices, along with test documentation tailored to U.S. Food and Drug Administration parameters, to a board of practicing surgeons. At the end of their presentation, panelists will assess students' understanding through a formal question-and-answer session.