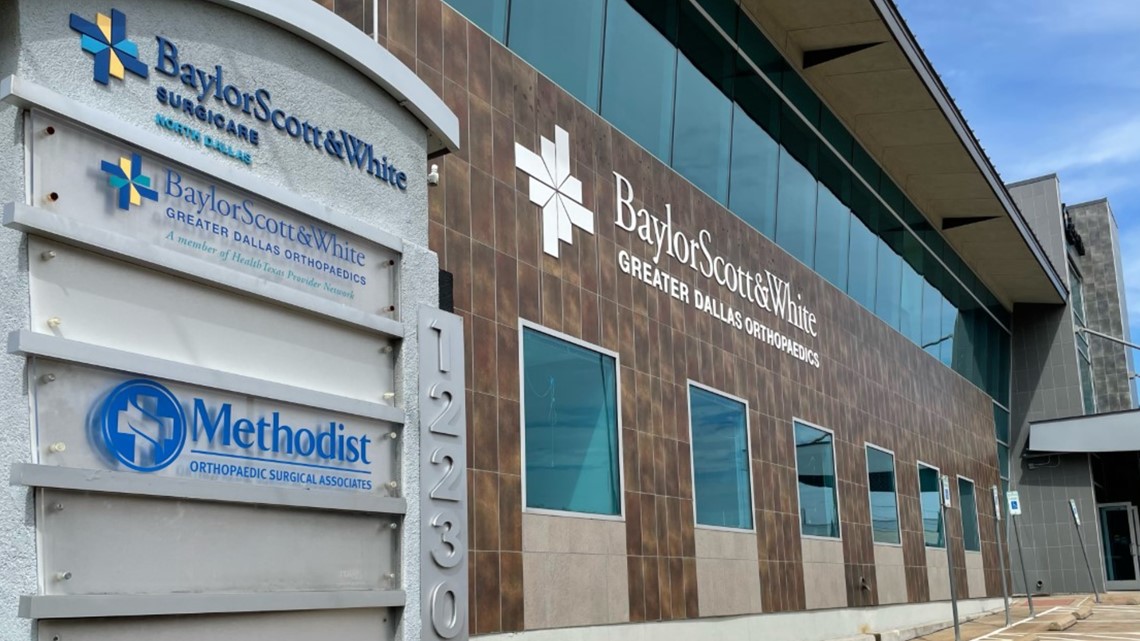 Reports of problems during Dallas Surgical Center procedures are mounting
Baylor Scott & White Surgicare North Dallas reported a "compromised" IV bag earlier this month and remains closed due to the investigation.
DALLAS — The number of people who have suffered serious and life-threatening medical emergencies during routine surgical procedures at a North Dallas surgery center is on the rise, the WFAA has learned.
Attorney Bruce Steckler now represents five people who underwent surgeries at Baylor Scott & White Surgicare North Dallas, located at 12230 Coit Road, between May and August.
Four of these clients include:
18-year-old woman who had her gallbladder removed
A 39-year-old man who had a reverse vasectomy
A 21-year-old woman who had breast reduction surgery
18-year-old man who had nose surgery after dirt bike accident
"My clients and their families are completely freaked out," Steckler said. "You go in for a routine procedure at a surgery center … and in the middle of the surgery the client goes into respiratory distress, immediately needs to be intubated and rushed to an intensive care unit. The clients – all young and healthy – are stunned to find themselves ventilated in an intensive care unit after undergoing elective surgery. »
Steckler's fifth client, a man in his 50s, suffered a cardiac episode during the operation, Steckler said. The operation was then aborted and, although the client did not end up in hospital, it took him all day to recover. He was told at the time he had an underlying heart condition – 'but when he went to follow up they couldn't figure out' why the episode happened, Steckler said .
"All of these people feel extremely lucky because it could have been so much worse," Steckler said.
The Dallas Police Department and the US Food and Drug Administration are investigating the surgical center, which recently contacted authorities after discovering that an IV bag found at the scene appeared to be "compromised".
RELATED: Dallas Surgical Center Halts Operations After 'Compromised' IV Bag Found
Baylor officials have not yet disclosed what the IV bag was compromised with or if there were multiple bags affected.
Officials said they suspended operations at the facility the same day the potentially compromised IV bag was discovered.
In June, Melanie Kaspar died of what was initially thought to be a heart attack at her home, according to a source familiar with the investigation.
Kaspar was a anesthetist who had worked at the surgery center earlier in the day, the source said. She was not feeling well and administered herself an IV at home that she had received from the surgery center, the source said.
Recently, the Dallas County Medical Examiner's toxicology test results for Kaspar were completed and they showed that she died from the toxic effects of a drug used to numb an area during surgery or a medical procedure.
His death was initially ruled accidental, but the ME has since reopened the case for further investigation.
Steckler said one of his clients' concerns is that the surgery center didn't act quickly enough once it became clear there might be a problem with his operations.
"We want to make sure the hospital had the procedures in place not just to prevent what happened here, but to make sure they were reporting it, and if they saw any trends or a number of incidences that they should have recognized in a timely manner. , that they had a problem and they fixed it," Steckler said. "Because how much is too much?" In my opinion, one is too many.
In a statement to the WFAA, the surgical center said it remains closed at this point.
A Baylor Scott & White Health representative said: "Surgicare North Dallas contacted law enforcement after discovering that an IV bag appeared to have been compromised. On the same day, the facility elected to suspend operations. The facility remains closed while we focus on assisting investigators and communicating with patients. We have created a dedicated hotline at 214-818-2794. There is nothing more important than safety and well-being. to be one of our patients."
If you have been affected by the situation at Surgicare North Dallas, please contact the WFAA Investigation Team here.