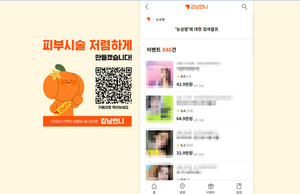 Plastic surgeons take aim at platforms' publication of uninsured medical expenses
As the government prepares to allow information about unpaid medical bills to be published by online platforms, such as "Gangnam Sister", plastic surgeons have opposed the move, saying it would seek medical patients and reduce medical quality.
On September 5, the government hosted an online meeting of the economic regulatory reform task force and discussed the possibility of online platforms posting information on non-profit medical expenditure.
The task force wanted to enable the publication of uninsured medical bills by online platforms through the authoritative interpretation of Article 56 of the Medical Services Act which prohibits medical advertising and Article 42 of the implementing decree of the same law concerning the notification of uninsured medical expenses.
A private task force member who discovered the task predicted that medical access would improve through online platforms.
However, the medical community said there was no basis for such a prediction. On the contrary, the provision of information on unpaid medical expenses via the platform "intensifies excessive competition between medical institutions and disrupts the medical order".
The Korea Association of Plastic Surgeons issued a statement on Tuesday and regretted that the government's latest decision was a "judgment with many unconstitutional elements".
The association said: 'The government referred to certain companies by authoritative interpretation and conducted discussions without healthcare experts.' He then called on the government to "reveal the basis for the assessment that medical access is declining due to non-disclosure of unpaid medical expenses".
He said: "Instead of increasing control and monitoring of the cited online platforms, the government is preparing to allow the publication of medical bills without benefits on the platforms. This is an act of degrading medical care at the level of a commercial product, not the area of ​​expertise directly related to public health.
The group said what the government needs to do now is strengthen the management and supervision of online platforms, not relax regulations on them.
What is needed now is to verify whether these platforms are legally using and handling personal information collected from medical consumers, he said. It is in the public interest to manage and monitor the illicit activities of these platforms.
"If the comparison of medical bills were to become the primary criterion for selecting medical establishments and treatments, it would lead to the mass provision of poor quality medical services seeking only efficiency," the association said. "In an environment where hospitals must attract patients with low medical bills, it will be difficult to expect them to provide high quality medical services."