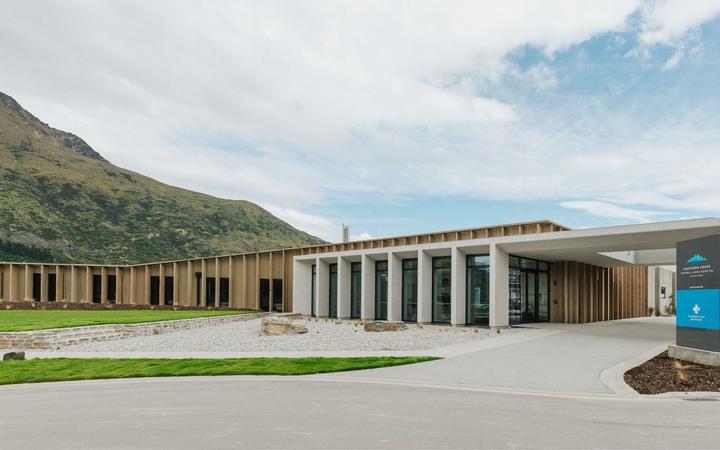 New hospital to serve residents of Queenstown Lakes
A new hospital has opened in the Queenstown area.
Southern Cross Central Lakes Hospital in Kawarau Park has three operating theaters and 13 inpatient beds.
Built by Queenstown Commercial Limited, the facility is leased to Southern Cross Healthcare (CMHC) and Central Lakes Trust (CLT), who operate the hospital as a joint venture: CMHC manages the facility, with CLT as an investment partner.
CMHC chief executive Chris White said the hospital's services are not limited to private elective surgeries.
He told RNZ that it was important for CMHC and CLT that patients from the district health board were also admitted.
"We will have relationships not only with health insurance providers, but also with ACC and the Southern District Health Board (SDHB) so that we can move DHB patients as well."
SDHB has hired the hospital to undertake some elective surgeries, including a regular weekly operation list for acute orthopedic procedures, which will save patients from having to travel to Invercargill for treatment.
Over time, an increasing program of specialized surgery is planned for the facility, including orthopedics, ophthalmology, urology, gynecology, plastic and general surgery.
The hospital will not provide accident and emergency services, but will be funded by the ACC to perform surgeries for eligible injured patients.
SDHB General Manager Chris Fleming said the capacity of the region's theater was increased with the new facility.
"This new hospital enables us to provide more convenient services to our population in Queenstown and Central Lakes and relieves the existing pressure on our services in Invercargill and Dunedin."
Queenstown Lakes District Council Mayor Jim Boult said the hospital was a "wonderful addition" to the service provided by DHB at Lakes District Hospital.
"While Lakes provide exceptional service, particularly for accidents and emergencies, we have long needed a facility that offers a local option for elective surgery that does not require major inpatient treatment.
"People in our area have had to travel to Dunedin or Invercargill for many years for day surgery or testing and our new facility will eliminate that need."
White said the next month would be spent preparing staff for the first patient admissions in mid-January.
The hospital will employ around 35 people when it opens, with additional staff expected to start in March.