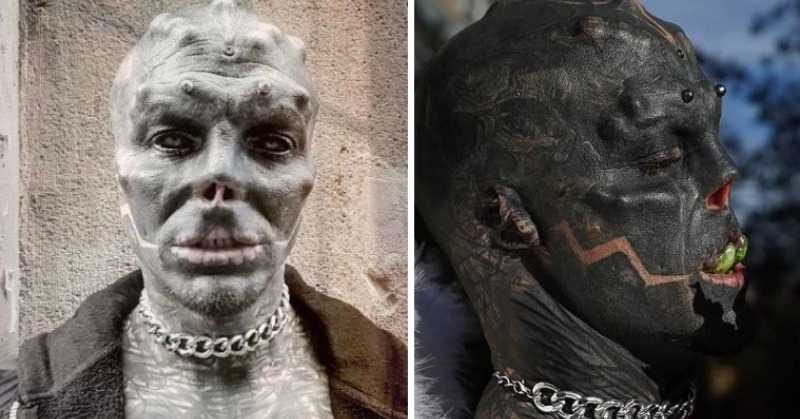 Man Who Wants To Become A 'Black Alien' Has Two Healthy Fingers Cut Off
When it comes to extreme body modifications, there is none more drastic than Anthony Loffredo. The Frenchman who transformed his body in an attempt to become a "black alien" has now had part of his hand cut off to form a frightening "claw".
Loffredo had two fingers removed is the latest in a series of procedures he underwent to pursue his crazy dream. Previously, his nose and upper lip had been cut off, his tongue had split open, and his entire body – including his eyeballs – was covered in tattoos.
Although Loffredo has undergone a number of surgeries, he revealed that he only achieved 34% of his goal of becoming an alien, The american sun reported.
Loffredo, who posts his increasingly severe body modifications on Instagram under an account called the Black Alien Project, posted new images to document his grotesque surgery.
"I develop my inner peace," he captioned a picture of his hand, which appears to have stitches where the ring and little fingers were.
Loffredo revealed that he was also preparing to remove two fingers from his right hand so that he could have matching "claws".
He wrote on Instagram: "On the other side of the world to continue my project, the procedure is progressing well, one more dream that has just come true. Thank you for doing your top job, thank you Mexico with all my heart. 34 percent loading. "
Loffredo has been undergoing extreme body modifications for about a decade now.
Previously, he had also had both ears surgically removed in order to appear more alien and was at risk of splitting his tongue, which involves cutting the muscle organ in half with a scalpel.
Last year Anthony traveled to Spain to have his nose surgically removed as the operation is illegal in his home country.
In 2017, he told the French newspaper Midi Libre: "Since my youngest age, I have been passionate about the changes and transformations of the human body.
"I clicked when I was a security guard. I realized that I was not living my life the way I wanted to. I quit everything at 24 and left for Australia, "he told the outlet.
"I love putting myself in the shoes of a scary character. I often settle down somewhere and play a role, especially at night in the dark streets… I explore the contrast between the role I play and myself, "added Loffredo.
For more interesting trend stories, click here.