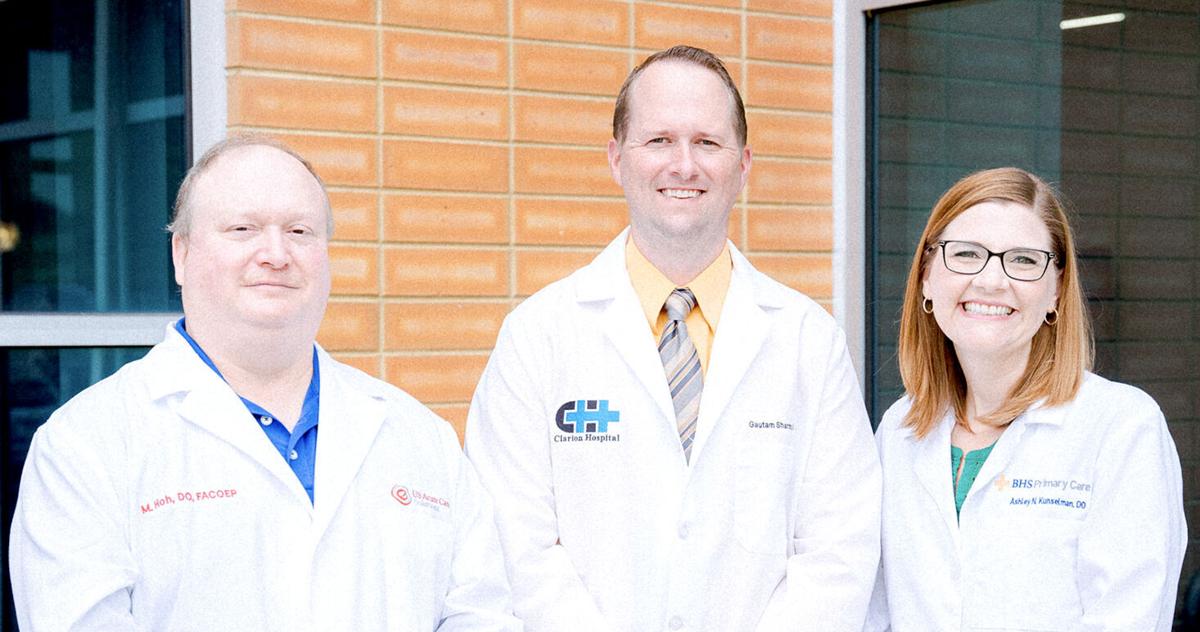 Clarion Hospital Residency Program Celebrates 40 Years | New
CLARION – "Clarion is a university hospital, which a lot of people don't know about."
With these words, Dr. Michael Hoh, Director of Medical Education and Designated Institutional Head, recently described the long-standing medical education program at Clarion Hospital, which celebrates its 40th anniversary this year.
Although the hospital actually taught medical students before there was an organized medical education department, Hoh explained that the formal program began when some of the early doctors decided to institutionalize the training of the medical staff.
"They thought it would be best to have residency-trained positions caring for patients," Hoh said, noting that the hospital applied for and became an accredited teaching site in 1982. The first class of residents s sat in 1983 and graduated in 1984. .
Clarion native Dr. Tim Brooks, a program graduate and family physician, added that the program began in response to the shortage of primary care physicians in rural America, particularly in western Pennsylvania.
"At that time there was only one college of osteopathy in Pennsylvania and that was in Philadelphia," he said, noting that one opened later in Erie and another is expected in Pittsburgh. Brooks said he believes the Clarion program is good in that it trains family doctors instead of surgeons and other specialists. "It produces good family doctors, and I think there's always a need.
According to Hoh, who has served as director of medical education since 1996, Clarion Hospital offers two residency programs — a transition year residency and a family medicine residency. A transition year residency is required for physicians interested in specialty training, such as ophthalmology, dermatology, or anesthesiology.
"The concept is that it makes you a GP before you become a specialist," he said. "[Residents] spend a year here with us, then they will go elsewhere.
Similarly, Hoh said, family medicine is an intensive three-year residency program where doctors who have just graduated from medical school transition from doctor to family doctor. As part of the family medicine residency, which began in 1989, residents alternate between different specialties to learn all aspects of family medicine.
"Family medicine is really the most difficult specialty of all because you have to know everything," he said, noting that family physicians work with patients from birth to death. "As a family physician, your specialty is being able to identify what you can treat and what you need to refer to someone for specialist care.
As part of the program, Hoh said residents perform a combination of clinical and classroom work daily. Hoh currently has two assistant program directors – Dr. Ashley Kunselman is the family medicine program director and Dr. Brandon Doverspike is the assistant program director for the family medicine residency and transition year residency.
"I'm like the principal of the school, and they serve as faculty presidents or department heads," Hoh said of Kunselman and Doverspike, pointing out that Clarion is the only university hospital that still has a pass rate. 100% for the American College Board of Osteopathic Family Medicine. "It's something we're proud of."
He also noted that many residents who complete the program stay or return to Clarion.
"About 50 percent of our active medical staff have trained at Clarion as medical students, transition year residents, or family medicine residents," he said. "It is one of the highest [retention rates] everywhere."
Hoh himself completed his transition year at Clarion, before moving to Ohio where he did emergency medicine and trauma medicine. He returned to Clarion in the early 1990s and has been on the medical staff since 1995.
"It's our big, big way to recruit quality doctors to stay in the area," he said of the residency program, adding that residents seem to like Clarion's teaching model. "We have board-certified doctors teaching everyone, which I think is part of our success on the boards."
Other Clarion alumni still on staff include Kunselman, Doverspike, Dr. Christopher Moore, Dr. Joseph Leonard, and Dr. Albert Barrett III, to name a few.
"We have several physicians who have completed the family medicine residency program," Hoh said.
But Clarion isn't the only destination for program graduates. Hoh said many of the graduates are "scattered across the country," ranging from Maine, Florida, California, Alaska, Hawaii "and every point in between."
"We cover the majority of the United States with family medicine and transition year residents who have graduated from Clarion," he said, noting that other graduates of the program are also currently practicing in counties. neighbors such as Warren, McKean, Elk, Cameron, Jefferson, Clearfield, Armstrong, Indiana, Venango and Mercer counties. "If you include the number of our graduates who are in surrounding counties, we are really helping northwest and north-central Pennsylvania."
Hoh went on to say that with the program's growing popularity, the competition for admission is equally impressive.
"Last year I received 1,600 applications for four family medicine residency spots," he said, noting that the June 16 graduation this year marked the completion of the residency program. for eight graduates – four from family medicine and four from transition year.
Hoh said the number of graduates shows the program's growth over the years. He explained that the program first started with four transition year residents and then expanded to include two family medicine residents.
"I gradually went from a total of four residents to 16 due to community needs and hospital needs," he said, adding that Clarion currently has 12 family medicine residents and four residents. in the transitional year.
Looking to the future, and as part of the Butler Health System, Hoh said he would like to see the medical education program continue to be successful at Clarion, but also expand to Butler Memorial Hospital in an effort to better serve the western Pennsylvania region.
The medical education program is headquartered on the second floor of the new BHS Health and Wellness Center, along with BHS Family Medicine, in Monroe Township.
"It's a huge benefit for Clarion and rural Pennsylvania," Hoh said of the residency program, noting again that many graduates choose to stay in and around Clarion. "Unless they are trained here, it is very difficult to keep doctors in the area.