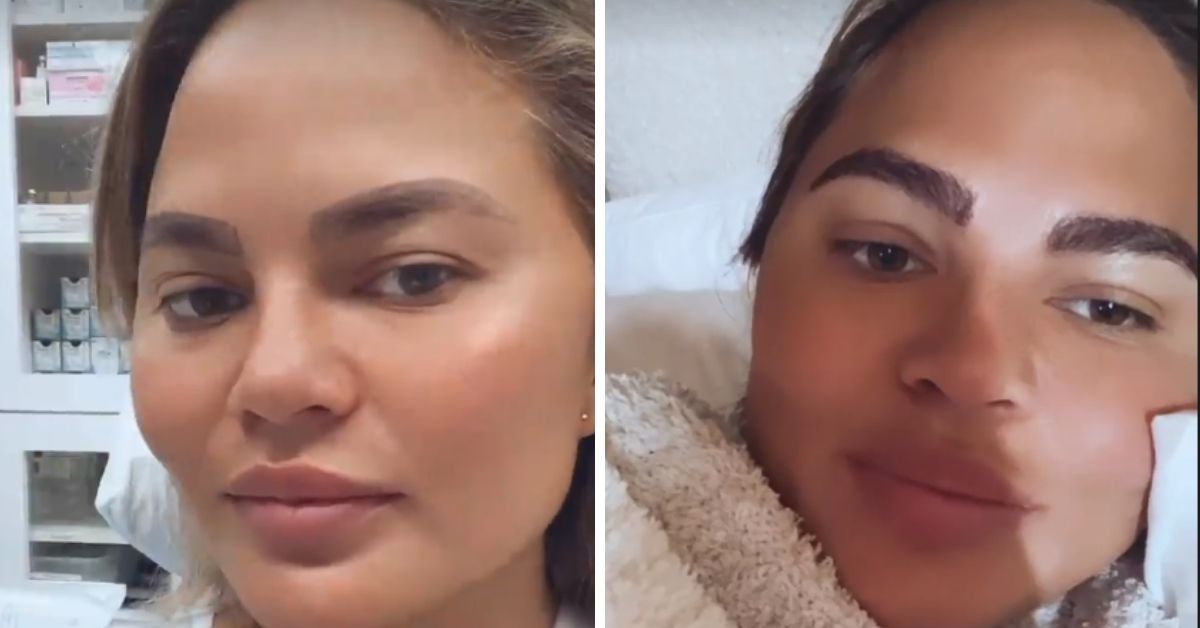 Chrissy Teigen is happy to have 'eyebrows again' after eyebrow transplant
Model Chrissy teigen shocked his followers, once again! This time by revealing her last cosmetic touch-up.
The 35-year-old model posted before and after images of her eyebrow transplant to her Instagram story. The images reveal that the procedure removed hair from "the back of her head" and used it to fill in the appearance of her eyebrows.
In a series of stories, Teigen posted a fresh-faced "before" image with the caption: "I never wear makeup if I can avoid it, so I was so excited for this eyebrow transplant operation where they take the hair at the back of the head !!! " In the post, she tags Doctor Jason Diamond, the founder of the Diamond Face Institute. On his Instagram account, he describes himself as "a world famous #PlasticSurgeon facial from Dr. 90210 & @ Netflix's Celebrity Plastic Surgeons".
Chrissy Teigen Eyebrow Transplant Surgery
After the image, the mother-of-two posted an "after" photo, showing her considerably thicker and darker eyebrows. His comment read: "It's right after the operation! Crazy!"
Hours later, Teigen looked unrecognizable in her story as she posted with her new eyebrows and an Instagram filter that tanned her skin. She wrote: "A little dark in pencil but it's so cool to have eyebrows again!" Giving crucial advice to teens, the model added: "Teens: don't tear them all off like I did !!"
Teigen's surgeon Dr Jason Diamond also commented on his latest surgery. He posted his own post on his Instagram account, highlighting the "aesthetic" role eyebrows play on the face. Comments on the image have been disabled (unlike the rest of his posts).
Related: Chrissy Teigen Posts Incredibly Hard To Understand Video About Having To Wear Makeup Once
Diamond wrote: "The eyebrows play an important role in the aesthetics of the face. They frame the eyes and can either be an eye-catcher or be the boring part of your morning that you have to spend ten minutes filling out." He went on to say: "I know too many people, entire generations, who have either plucked their eyebrows too much as part of the trend or just experience eyebrow thinning over time. procedure where we agree on shape, density, etc. and competence takes it from there. "
Chrissy Teigen applauds Buzzfeed
Amid Teigen's over-posting about her latest cosmetic procedure, she also applauded Buzzfeed for criticizing her for her Squid game-themed party that fans and outlets call "deaf-tone". The star has been criticized for the exuberant amount of money she spent on the party, given that she took inspiration from a TV series about capitalism and wealth inequality.
Related: Chrissy Teigen Is Dragged Out For Trying To 'Sneak' On Twitter
Between her stories about her eyebrow surgery, she filled it with screenshots calling Buzzfeed for firing and undervaluing employees, capitalizing on the Squid game popularity and publication of insensitive articles.
While it looks like Chrissy Teigen will continue to be criticized for her lack of the ability to "read the room", at least she loves her eyebrows now!
Next: How Chrissy Teigen Is The Second Highest Paid Model In 2021?
The real reason Taylor Swift and John Mayer broke up
After Taylor Swift's "Red" reissue, the Swifties threaten John Mayor … but do they really know what happened between them?
Read more
About the Author